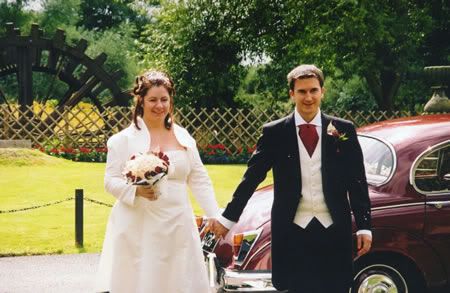 So, a question I've been pondering lately.  I had a wedding, August 2003.  It was a beautiful day, surrounded by friends and family.  The ceremony was lovely, the reception perfect – I couldn't have asked for a better day.
One thing spoiled it.  Me.  I can hardly bear look at my wedding photos because I hate what I see there.  I was 'voluptuous' (I say was, still am, and yes, voluptuous is code for fat!) – there's no problem with that really – many larger ladies make beautiful brides.  I was not one of them.  My make-up was done by someone who'd be well suited to an artist on TOWIE, and this is before that dream had even been borne!  I looked like a giant satsuma and boy, does that orange face glow on my pictures.  And my dress… there are worse dresses but I hated it.  It wasn't the one I wanted.  It didn't make me feel special.  It didn't make me feel beautiful.  So as perfect as the day was, the memory of it is spoiled for me because of how I felt and feel about myself.
So, is it greedy to have another go?  I'm not talking full-on church etc.  More a beach vow renewal with just DH and the girls.  Something low key.  Celebrate our 10 year anniversary, get some pictures to feel good about, and have that honeymoon we've never actually been on?  A chance to do it over and fix the one thing that I wish I could do differently.
What do you think?  Tacky or romantic?